Okay, Here's Who's Who: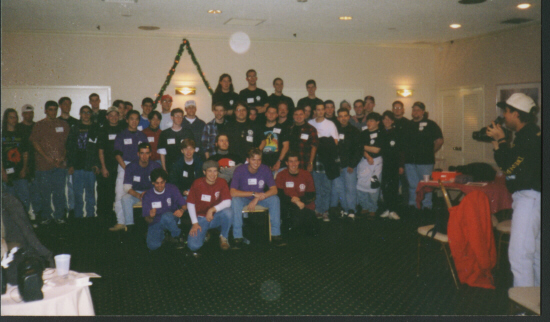 All directions are from your viewpoint looking at the photo
At extreme right wearing dark shirt and cap: Chris "D-Man" Merlo
To the left, wearing glasses: Mathew "Paradox" Palzewicz
To the left, shorter person wearing dark shirt but no rectangular badge: Rachel "Wisha" Goldenberg
To the left, about the same height, wearing Ytsecon II badge and with a shirt wrapped around his waist: Ross, "Thrak"
to the left, slightly taller: Heath "Augie" Augustover
Skipping one person to the left, wearing red-toned plaid shirt and Y'Con II badge: Brian "I never did get my tapes from him" Cox
Immediately below Brian, on one knee wearing red Y'Con II shirt: Steve "Bafu Vai" Borzilleri
To the left, seated on chair: Trey "T-Stretch" Allen (who planned Ytsecon II, booked the hotel function space, etc.)
To the left, kneeling and wearing red Y'Con II shirt over white longsleeved shirt: Brandon Ghiotto, Trey's friend, also from Florida. I rode with these two from Asheville, NC up to NY, picking up Bafu Vai in MD on the way.... What a fun roadtrip!
To the left, on one knee: Rod Waldron.
Behind Rod, in a chair is Steve Matthews (both are lurkers).
Directly to the right of Steve in the black tee-shirt: Mike Bradley (posts occasionally).
Above and between Trey and Brandon, kneeling and wearing Japanese DT tour shirt: Mike Bahr
Directly above Mike and wearing grey plaid flannel shirt: Ryan "Skadz" Skadberg
To the right, in the center of the photo wearing black shirt and Y'con II badge: me!
Above me standing on chair, to the left with long hair (!): Brian "Wacky" Wherry
Above me standing on chair, to the right: "Bigman"
To the right, next to Bigman: Brian Anderson
To Brian's right: Ted Knickerbocker
Two faces to the left from Skadz, wearing reddish shirt and Y'Con II badge: Jeff Chew
Immediately to the left of Jeff, same height: Jeff's brother whose first name I forget :)
There are a number of people -- especially some of those close to the center -- who I feel I should remember, but don't. :( If you were in this photo, please send me e-mail (here's an alternate if your site is on the spam Banned List) and let me know!

TOP of Paul's home-page
My current fave vibes
Past, present and future books
Contents of my CD changer
My favorite books of all time
Current news and happenin's