Storm Constantine
THE FULFILMENTS OF FATE AND DESIRE (Tor)
Book 3 of WRAETHTHU

reviewed by Paul W. Cashman
pellaz1@comcast.net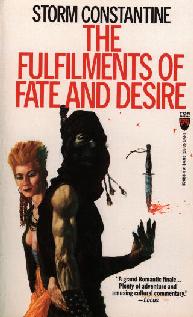 Book III: The Fulfilments of Fate and Desire
After reading Book 1 and Book 2 we realize that the primary character in Storm's tales of Wraeththu is actually Calanthe, a wanderer with an incredible charisma and the ability to make almost every har he meets fall in love with him. We all know people like that (my own personal version of Cal even looks like Storm's description, right down to the long blonde hair, strong hands and mobile face), and so it's almost with a sense of relief that we discover upon opening Fulfilments that, hey presto, it's written by Cal, first-person. Even better: Cal alternates between recounting his present adventures and, in italics, his early memories of his Inception into Wraeththu and the first days of the fledgling tribes. Cal narrates the tale with his humorous, witty cynicism in full form; this final book in the trilogy is a joy to read. In his words,
I shall start in the middle of the story. That is a bad place to start, and because of that, the best place for me. Here goes.
Cal's story is a tale of questing, both in the present for Cal's ultimate destiny, and into the past, where Cal will recall and confront some of the most painful memories this trilogy contains. His memories appear as italicized passages at each chapter-head, and comprise parts of what he himself is writing during the story, his memoir.

It's now the Year 27 "ai-cara," meaning since Pellaz-Har-Aralis was raised as Tigron in Immanion, and Cal, still looking young, is one of the 'oldest' hara around. Pure-born hara are no longer the oddity they were when, e.g., Swift and Tyson were born, yet none of the oldest hara, incepted as human males, show any obvious signs of age -- physically, anyway.
It's been observed at SF conventions that in some respects, Wraeththu have some of the benefits of vampires, like near-immortality, without all the constraints -- they can enjoy daylight, food and, most importantly, sex! Some of Storm's other books feature similar androgynous races who are even closer in some ways to vampires, like the Parzupheim from Burying the Shadow and the Grigori from Stalking Tender Prey.
Cal now looks out at his world from the gutters of Fallsend, a tiny Wraeththu town in an ill-policed section of the continent of Almagabra known as Thaine. To the east lies the region known as Jaddayoth, home of the Twelve Tribes. (The map in the beginning of the Wraeththu omnibus edition or the Fulfilments paperback shows this area; a revised map appears in the Immanion Press reprinting of the book.) He's on the run from the authorities for some dalliance, and also from some sort of shadowy mind-pursuit. He is tired and destitute, but he thinks he's shaken off pursuit -- for a while.

Cal asks at a tavern about getting work and someone suggests a musenda, or Wraeththu whorehouse:
More pity came my way. Someone said, "You're quite a looker. Skinny, but some people aren't fussy. You might find work in Glitter...."
I'm fussy. I half-starved for a week before I reviewed my morals.
Jump to summary of Book 3


.
 .
  .
   .
    .
     .
      .
       .
        .
         .
          .
           .
            .
             Spoilers below!
            .
           .
          .
         .
        .
       .
      .
     .
    .
   .
  .
 .
.

Calanthe's review of his morals is short-lived; he applies for a job at Piristil, one of Glitter's musendas, and is taken in by the proprietor -- but only after Cal smiles at him. As usual, Cal's smile is lethal....and his cynicism, too:
And that, my friends, is how Calanthe, lover of kings and princes, slayer of friends, charlatan of wit, beauty and refinement, a legend in his own time in fact, became a whore. How much lower could I fall?
Cal remembers: he is fourteen, together with his even-younger friend and lover Seel Griselming in a nasty-smelling part of a city. Society, parents and the establishment are "on to them." Two young boys in love:
In the wake of various hysterias, our love is outlawed. We risk death every day. (The first thrown stone; others would follow.) No-one must know about us. It is a danger even to look at one another, in case the warmth in our eyes betrays us....
They come upon a collapsed house with a cellar. It's said that Wraeththu live beneath the city, that could take them in, and take their humanity away from them. With nothing to lose above, they descend into the depths. "We are together."
Meanwhile, in the present: Calanthe enters the musenda Piristil. There were eight resident kanene, or Wraeththu prostitutes, including the manager, Astarth, who runs the place for Jafit, the owner. There are three other harish employees, and for a while these are the only hars at the musenda that Cal knows about -- but there are mysteries afoot in the house, and a supposedly-unused wing of the house has strong, new-looking shutters over its windows....
Cal remembers: he has been accepted by Tribe Uigenna, one of the most ferocious and warlike fledgling Wraeththu tribes in Megalithica, led by Manticker the Seventy and his second, Wraxilan, known as the Lion of Oomar for his long red-blonde hair. Cal's inception is marred by loneliness: his lover Seel refused to be incepted into Uigenna. For Cal, inception is brutal, a transfusion of blood and the following althaia, or body-change. Then it's time to seal the changes with Cal's first taste of aruna, sex. He looks up and sees it is to be Wraxilan. "You think I would let anyone else have you, Cal?" he says. The first time is painful, and Wraxilan makes sure Cal remembers that he was Cal's first Wraeththu lover. Meanwhile, Seel is incepted into the less-brutal Tribe Unneah.
Meanwhile, in the present: Cal is introduced to the other kanene of Piristil....
Lolotea, a "delightful imp" who becomes Cal's good friend;
Salandril and
Rihana, both "languid creatures" from the "cat-worshipping tribe of Kalamah in eastern Jaddayoth,"
Ezhno, blue-eyed, and two others,
Yasmeen and
Nahele, from the gregarious Hadassah tribe, and finally
Flounah, of the forbidding Maudrah tribe.
Cal learns more about the Twelve Tribes of Jaddayoth from his fellow kanene, since they hail from that area and it's one of the topics that are "safe" at the dinner table. (As a general rule, kanene don't discuss their pasts, which is fine with Cal, who has a longer, more colorful past than any two second-generation hara put together!) The hara who eventually moved into Jaddayoth were escaping either from the Varrish defeat in Megalithica (chronicled in The Bewitchments of Love and Hate), or from the control of the Gelaming in Almagabra -- so, as you'd expect, many in the Twelve Tribes have shadowy pasts. Relatively unsupervised by the Gelaming, free to develop, a fast-growing area of affluence: hey, it sounds like it's right up Cal's alley, and he finds Jaddayoth intriguing. He resolves to go there as soon as he can afford it.

His first experience at "training" to be a prostitute, courtesy Astarth, is grim. Unlike the "sharing of souls" and the potential for magic with aruna, Cal's coupling with Astarth lacks all luster; it's a mechanical act. Astarth tells him of pelcia, pretending to fight his client before "surrendering," and of chaitra, when a client fights him; both involve pain and some risk. Cal almost decides to leave right then and there, but penniless and with no horse, he really has nowhere to go.

--And besides, he makes a friend in Lolotea, who lived north of Galhea while Terzian used it as his stronghold. They compare memories of those times, and 'Teah comes to the startling realization that before him sits the former consort and deepest love of Terzian, the powerful Varr chieftain. It becomes their secret, and Calanthe is grateful to Lolotea for his friendship...and his silence.

Time passes; Cal finishes his brief training period and begins work as a kanene. He befriends one of his regular clients, Kruin, a Natawni soldier and mercenary. He becomes curious after hearing an unmistakeably Wraeththu scream from across the courtyard and, while investigating the "unused" wing, comes across a big Mojag Tribe guard. After Cal boldly reports this to Jafit, the owner finally shows him Piristil's secret: chained in a room in the other wing is Panthera, a har of surpassing beauty and wildness, who Jafit had captured and was using as a slave kanene. Of Panthera, Cal says:
Nobody had ever created a pedestal for Panthera, but from the moment I first saw him, I created one there and then out of pure thought-form, and put him right on it. Wraeththu have spawned many legends. I remember the ones I've known; the Varrish Cobweb, the Kakkahaar viper Ulaume and, of course, Pellaz, Tigron of the Gelaming. Men had their goddesses, women named as the most beautiful and potent creatures that god could create. Wraeththu surpass all that. In them, beauty is complete because it is both male and female; the way it should be....Panthera turned and examined us carefully for a moment, as a cat may examine a movement in the corner of a room. His green eyes were as cold as stone, his wild, thick hair tied up, his shoulders bare and bruised. I noted that his hands clutched each other in his lap. He was chained to the wall. He was, as had been implied, incredibly lovely.
During one of Cal's assigned times to help guard Panthera, he realizes that he and Panthera, having had some Wraeththu caste training, are able to speak mind-to-mind. Panthera tells him his true status, a son of Ferminfex Jael, Castlethane of House Jael in Ferike, one of the Twelve Tribes of Jaddayoth, and Cal smells an excuse to get on his way...and, as Panthera tells him, a healthy reward.
Meanwhile, Cal takes aruna with his friend Lolotea -- not the passionless coupling of client and kanene, but true aruna, the sharing of souls and feelings with someone you care for. This appears to open some of the blocks in Cal's mind. Suddenly he remembers more of his past...and wheels are set in motion.... Cal remembers: he has found a new lover, Zackala, and they both fight for Tribe Uigenna against the tattered remnants of humanity. Any surviving young human males are incepted against their will, while females and older men are butchered. It is a wild time.
Then, Cal is summoned before Wraxilan, the Lion of Oomar, who now leads the Uigenna. Wraxilan has now progressed upwards in caste far enough that, with a consort, it might be possible to create a new Wraeththu life, a harling. He wants the best, he says. He wants Cal. Cal, frightened at the risk -- which is still great -- fearfully declines, and Wraxilan banishes him and Zack from Tribe Uigenna in anger -- and in hurt. Unthrist, tribeless, they find shelter with Seel and Tribe Unneah for a time, but their quieter ways don't mesh with Cal and Zack, so they go wandering and eventually get into trouble. Chased by angry hara, they come to a high wall. Cal climbs on Zack's shoulders and gains the top of the wall, but drops his pistol over the other side by accident. For some reason -- cowardice? fear? -- he doesn't reach down and pull Zack up with him. The mob reaches Zack just as Cal jumps down the other side of the wall...with Zack's knife, thrown at the last moment, buried to the hilt in his arm. Cal escapes, thinking "We thought we were immortal. Now we were both dead...." This is one of several black moments Cal feared remembering.
Back in Piristil, Cal hears of tawny-haired Ariaric, the "Lion" of Oomadrah, leader of the Maudrah Tribe in Jaddayoth, and shivers. Could he be the same "Lion" as Wraxilan?
Cal and Panthera lay plans for Panthera's escape, and Cal enlists his client Kruin's grudging support. Tragedy strikes elsewhere, however, as Cal's friend Lolotea is killed during pelcia with a client. Jafit, the proprietor, promises to punish the killer monetarily, but an inwardly-grieving Calanthe and Astarth want a more permanent solution. Astarth purchases a lethal poison from a Garridan potion-dealer -- the Garridan Tribe of Jaddayoth are known for their abilities with poisons, unsurprising since many are former Uigenna refugees from Megalithica -- and together, he and Cal force Lolotea's murderer to take it.
Hmmm, poison.... Cal's mind is running in overtime, thinking up ways to free Panthera from his incarceration and three powerful Mojag guards. He spends much of his remaining savings on a sleeping potion, contacts Kruin, and sets his plans in motion.
Cal remembers: after being taken in and healed of his wound, he steals a red pony and some supplies and heads into the southern desert. He comes upon a small farm, and on the doorstep is a young human boy sharpening knives. His name is Pellaz, Cal charms him into accompanying him south -- and the future of Wraeththu and the world has just changed....
Cal's narrative picks up with him, Kruin and the now-freed Panthera on the frozen road out of Fallsend. His plan to "spring" Panthera had been successful -- barely!
(The rest of this section may someday be written. :))

.
 .
  .
   .
    .
     .
      .
       .
        .
         .
          .
           .
            .
             .
              Spoilers above!
             .
            .
           .
          .
         .
        .
       .
      .
     .
    .
   .
  .
 .
.


Fulfilments is a great book. Somewhat longer than its two predecessors, it positively shines with Cal's cynical prose and his retrospectives on early life as a Wraeththu. So much is revealed here: how he is Incepted, the early days of his tribe, his friend Zackala and how he betrayed him; everything. The resolution, with Cal finally journeying to Immanion and confronting Pellaz, who still loves him despite the intervening decades, is as agreeable an ending as you'd wish. My only gripe is that Panthera, who ends up a pawn in a larger game played by Pellaz and the Kamagrian, is left bereft and seemingly forgotten at the end of it all -- just about the only Wraeththu in the series who suffers a sad ending (excepting perhaps Terzian from Bewitchments, and even he gets a final release, from Cal). There's still room for story-telling here, and, according to Storm C., a new Wraeththu trilogy will be published beginning in 2003 in the United States! I count the hours and seconds until that day. :)

Reviews: Enchantments | Bewitchments | Fulfilments
Series Summary and Thoughts | Storm's first visit to the US | Reviewer Paul W. Cashman's home page