Blue Hole Ocoee
Cherokee National Forest
Still a great place to go swimming, snorkeling, free-diving and suntanning!
(But not on weekends during the summer)
A fire destroyed the Ocoee Whitewater Center in April, 2022, but the river and swimming hole are accessible beyond the ruins
To help shape the future rebuilding of the OWC, click here.
Public comment via the survey is available through Summer 2023, per the timeline shown.
If this content has helped you regarding my favorite swimming hole,
consider clicking here to support me and this site via
Last revised September 14, 2023
Due to the fire, the upper short-term parking lot at the Center remains closed for vehicles, but you can walk up the driveway and through the lot to get down to the river and Blue Hole via the stairs.

Upon arrival, you'll have to enter the parking lot via the lower (western) gate.

After parking, walk up the driveway next to the concrete barricade all the way up to the OWC short-term parking lot. The lot is only partially fenced off. You can then access Blue Hole and the Old Copper Road trail by going down the steps or the ramp on the far side of the lot.

If you park across the bridge in the picnic area, you can walk up the trail to the suspension bridge, cross over the river, and then walk down the ramp to your right to Blue Hole.

The usual daily parking fee of $3 still applies. You can now purchase a daily pass or a 12-month Cherokee National Forest pass ($30) online here.
Feel free to contact me! Here's a direct link to my FaceBook profile
My email address is pellaz1@comcast.net
Checking if the water is low enough for swimming
Check TVA's website for Ocoee #3 Dam for current updates. Any "hourly discharge" higher than about 1,400 cubic feet per second indicates at least some of the river flow is being sluiced down the rivercourse, making it hazardous or impossible to swim at Blue Hole. (The capacity of the Ocoee #3 Dam generator appears to be 1400 cfs.)
If the site indicates the generator is not running ("Generation Releases -> 0") then any listed discharge is flowing through the riverbed and through Blue Hole Ocoee, and that's usually bad news for swimming.
HOWEVER, if the generator is running and the posted discharge is 1400 cfs or less, OR if the discharge is 0, then normally we should be good to go!

The regular schedule of recreational water releases from Ocoee #3 for rafting and kayaking is located here.
My 2023 itinerary is posted here
This page can now finally be reached using a simpler URL: www.BlueHoleOcoee.com (capital letters are optional)
List of all photos and videos now available here
List of all my yearly diaries and recaps is now here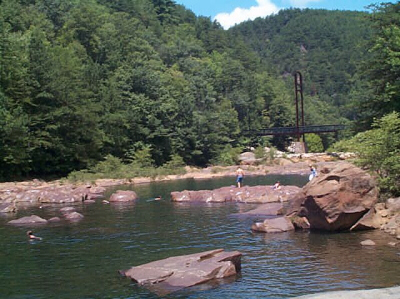 Blue Hole, looking downriver. The Centennial Olympic footbridge is in the background and the best-known underwater tunnels are just to the left out of frame.
Background:
Ever since 1994 or so, I've been roadtripping a lot up to Cleveland Tennessee, where my longtime friends Dirk and Randall lived, to visit them and go swimming in the Ocoee River Gorge. There's a great swimming hole called Blue Hole, part of the Upper Ocoee River, where there are underwater tunnels shallow and deep, wide and narrow; nice wide swimming holes 12-14 ft. deep; places where you can jump in or go free-diving and look at the rocky bottom, in clear mountain water. There are easy tunnels for the whole family to swim through, and some that only kids (and skinny adults) can attempt, and some that no-one I know of has succeeded in swimming through. It's a lot of fun! Great weather, great swimming, great company, underwater tunnels....what more could one ask for?
First, some important things to know:
For my friends in the Atlanta area, it's about an hour and 50 min. from downtown Atlanta to Blue Hole via I-575 and SR 5, and a bit longer via I-75 to US 411 to US 64, assuming you travel near the posted speed limit in most areas. It's only about 80-90 minutes from Atlanta's northwestern suburbs (Cobb, Bartow, Cherokee counties), since they're closer. From my house in Barrow County, Georgia, it's about two hours and forty-five minutes. Oh, well.
For everyone, you can still use the address for the now-destroyed Ocoee Whitewater Center, which was just a bit downriver from Blue Hole Ocoee: 4400 US-64, Copperhill, TN 37317. This should work in all GPS navigational apps, and on websites like Google Maps.
See the "Things To Bring" section below for a list of things to bring with you. $3 cash, a mask or a pair of goggles, water shoes and something to swim in is a good start. :)
A $3 fee applies to vehicles parking in the day-use parking lot. This is a US Forest Service "Fee Area" and for a whole day of fun, it's a bargain for a carload of people at twice the price. A Cherokee National Forest 12-month pass for $30 may be a better option, though, and includes all of the Forest's 'fee areas' including the beaches on Parksville Lake and up at Chilhowee, boat ramps, shooting ranges, etc. I get one now every year. You can pre-purchase a day-pass or an annual pass online at Recreation.Gov.
The water level in the Upper Ocoee riverbed at Blue Hole is controlled by the Tennessee Valley Authority (TVA) at Ocoee #3 dam. Before embarking on any trip to Blue Hole, it's always wise to check TVA's website for Ocoee #3 as shown above. Basically, any hourly discharge over 1,400 cubic ft/sec means there will be extra water flow at Blue Hole, and things like swimming through the tunnels will be more difficult or impossible.
Here are some reasons why TVA might be running high water through the Ocoee at Blue Hole:

White-water "paid for" by the rafting companies. Since TVA would normally divert the water through the mountain tunnel to Ocoee #3 powerhouse and generate power from it, the water has to be "paid for." The summer rafting/kayaking schedule is located here; water is normally run high in the Upper Ocoee river-course on Saturdays and Sundays for rafting.
After extremely heavy rainfall in the Ocoee/Toccoa drainage basin
problems or routine maintenance can force TVA's Ocoee #3 powerhouse or the water diversion tunnel to be shut down, and the extra flow would have to go through the riverbed.

Summer schedule for the Upper Ocoee: Click here for TVA's scheduled releases. Click here for up-to-date discharge info for Ocoee #3 dam, above Blue Hole.
High water is not normally scheduled for weekdays at all, only Saturdays and Sundays through Labor Day, but as we've seen several times, conditions can change, due to heavy rains in the Ocoee basin or maintenance on the dam, tunnel or powerhouse turbines comprising Ocoee #3 power plant.

Although the water is usually quite clear (except for about one day after the river's been high), the underwater rocks can be muddy. Don't wear something that can't be washed at home afterward.
This is, after all, backwoods Tennessee. Since this isn't a pool, swimming in shorts, cutoffs or whatever is okay. Thongs might look a bit out of place. :) "Skinny-dipping" is not impossible, but I'd suggest heading further upriver on the path away from civilization and the Whitewater Center before trying it.
There were bathrooms at the Ocoee Whitewater Center, but now the only option is a 'waterless' restroom facility ("vault toilets") toward the bottom of the parking lot but it's basically an overgrown porta-potty. They are cleaned out once a month whether they need it or not. It's better than nothing but you might want to hold your breath while inside. :)
---
Directions To Blue Hole
With the prevalence of navigational apps and GPS systems, it's easiest now to simply provide the address of the (former) Ocoee Whitewater Center and let your technology handle the rest. It was located at 4400 US-64, Copperhill, TN 37317. Your navigation system should route you to US 64 through Ducktown TN (from the east) or through Cleveland, Ocoee or Benton TN from the west, as there is no other way to get there. If it doesn't do that, check another source.
Since I'm from Atlanta, I have included directions from the Atlanta metro area via two routes.
Click here for the shorter, less-scenic route through Canton, Jasper, Ellijay and Blue Ridge.
The more "scenic" route takes you up I-75 to Hwy 411 and then along Parksville Lake, TVA's big Ocoee #1 dam and the Ocoee River Gorge itself. It is significantly longer and has more two-lane roads as opposed to multi-lane highways. Click here for that route.
---
Upon Arrival
The upper lot near the Whitewater Center ruins is now closed. If you're approaching from the east (Ducktown), drive past the top entrance and continue down the hill; turn left at the lower (west) parking lot entrance and drive back up. If you're approaching from the west (along the river gorge), stay on US-64 until you reach the first parking lot entrance and turn right.
If you haven't already paid for a day-pass or annual pass online, go to one of the Daily Use fee kiosks and drop the envelope in the slot, and put the stub on your dashboard. You're all set! --Or, you can be like me and get an annual pass. :) A pass for the entire Cherokee National Forest is $30 for 12 months and is available at Recreation.Gov. That's a great deal, since it also includes places like Mac Point Beach, Parksville Beach, the Chilhowee Recreation Area, and all the other Daily Use Fee Areas in the Forest including boat ramps and shooting ranges. Note that it does not include overnight camping in developed campgrounds, which runs typically $12-30 per night.

| | | |
| --- | --- | --- |
| | | |
| Taken from the parking lot facing downriver | Facing upriver: OWC was the red building in the distance at left | OWC itself, taken from the short-term parking lot. R.I.P. |
---
Things you'll see at Blue Hole
The riverbed right by the remains of the Center mostly consists of rocks, with some deep pools and a small waterfall near the day-use parking lot. I don't usually go swimming here because there are "neeter" areas and underwater tunnels up the river, but this is a great area to take younger kids since it's not too far from the parking area. The rocks are worn smooth from millions of years of waterflow in the river basin and look neet; they are slippery, so be careful. The intentionally rusty suspension bridge marks the upriver limit of the riverbed modifications for the 1996 Olympic Games -- the parking lot is where the temporary grandstands were built. While the grandstands are long gone, this part of the river is still used for competition slalom events, typically once or twice a year.

If you're like me, though, you'll probably want to go to Blue Hole itself. At the near side of the suspension bridge there is a round flagstone "plaza." Stairs and a ramp descend down to it from the old short-term visitors' lot, and a path, now blocked, used to lead to the back of the Center. You'll see a paved ramp heading down to the river and the Old Copper Road trail, and that is how you access Blue Hole and the underwater tunnels. Blue Hole is easily visible looking upriver from the suspension bridge, and the best-known tunnels ("swiss-cheese rock") are at the far end of that section, in the middle, as the water gets shallower heading there from Blue Hole. Look for a bunch of holes in the rock. If you go up to Blue Hole this summer or any summer, be sure to drop me a note in email if you have any comments or suggestions. It's a great place to go swimming or snorkeling!
---
Things You Should Bring
(Listed in approximate order of importance)
$3 for the day-long parking fee. Or just get an annual pass once and enjoy a full 12 months! Annual passes are $30 and now include a full 12 months from purchase date. They cover all of the Cherokee National Forest's day-use areas, beaches, boat ramps, shooting ranges, etc.
For large vehicles, like buses and passenger vans, and large groups, the daily fee is 50 cents per person.
Mask, snorkel and fins. If nothing else, bring a mask, or at least some goggles for your eyes. Blue Hole is ten times as much fun when you can see where you're going, and there's a lot to see on the bottom. Besides, then you won't have to borrow a mask from me! :) Fins (or 'flippers') are not needed in the "Swiss cheese" tunnels, but they're really helpful everywhere else in open water for snorkeling and freediving.
Shoes, preferably water-shoes or old tennis shoes. On a sunny summer day, the rocks in the riverbed and along the sides can get extremely hot, and shoes become really important. The rocks are also slippery when wet so choose something with decent wet-traction.
Water. Since the burning there is no potable water available on site. If you picnic near Blue Hole, please dispose your trash properly...and give others hell if they don't. :)
Please note that Forest Service rules prohibit the consumption of alcohol and Rangers will occasionally patrol the area checking coolers, etc.
A bathing suit. Note how this is listed below money, masks, water and shoes? :) You can also go swimming in shorts or cutoffs, and I've seen passersby, and locals on the way home from work, take a quick dip wearing long pants...and sometimes underwear. The farther up the river you walk, the less crowded the river tends to be, so skinny-dipping isn't out of the question once you're away from the crowds.
A hat. That Sun'll bake yer brain. :)
An underwater camera. Not a necessity but they work pretty well and on a clear day with sunshine you can get some awesome underwater shots, as you can see on these pages. For disposable underwater cameras, Fuji's is the best I've used, but Kodak's is okay too. I'm now using a GoPro Hero5 Black ($120 refurbished on eBay) and also an older Hero2. I still have my trusty Pentax Optio W30 and Fuji Finepix digital underwater camera for abovewater photos and some video. The Pentax gets better audio results underwater as the mic on the Fuji is extremely "hot."
Sunblock, preferably the "coral-safe" bio-degradable kind. There is substantial underwater life in the river to protect.
Towel and/or blanket. --Especially if you're suntanning.
Hand sanitizer. The remaining "restrooms" (basically permanent porta-potties, at the far end of the parking lot) do not have running water or hand sanitizer.
In cooler weather and especially in late spring or early summer, a wetsuit, or something warm to wear if the water's a bit chilly. It can be chilly early in the season, or when the water is flowing a bit higher than normal due to rainfall in the basin, or when the wind is really blowin'. Wearing a surfers' rashguard, or a shirt over longer shorts, or bike-shorts under cutoffs, etc., can help fight the chills. Water temps have ranged from 72F (pretty chilly) up to around 90F (almost too warm), but tend to be in the low to mid 80s by late summer. Quite comfortable.
If you'd like to make it an overnight trip, the closest motels are in Ducktown, TN; you passed them if you approached from the east but they're a little pricey. There are also various lodges, campgrounds and cabin-rental places in the Cherokee National Forest. Thunder Rock Campground, across the river near TVA's Ocoee #3 powerhouse, is only about 2 miles from Blue Hole and costs $12/night for a spot. No permit or fee is required for "primitive" camping up in the mountains within the National Forest, but there are bears and stuff.
For more information about primitive camping, go here.
In the event I don't stay with friends in Cleveland, TN, I generally get a room in town there. There are numerous options at the I-75 exits.
If you'd like to picnic at Blue Hole, a bridge by the lower "day" parking lot leads to a small picnic area across the river from the parking lot. These tables and a larger covered pavilion are first-come first-served.
2023 Summer Roadtrip Itinerary
Note the schedule changes due to stupid crap at my work
Dates
Plans
Comments
May 23-24, 2023
Tuesday-only roadtrip made!
This was primarily a recon mission since the water was a VERY chilly 71F due to cool overnight and daytime temps and cloud cover.
There are basically no changes from last year; the ruins have been cleaned up a bit and most of the structural ironwork has been removed. The fencing still blocks off the trail between the building and the river, so you'll have to go up and around, like last year. Photos and two videos of the OWC ruins and the paths as of May 2023 are now posted here on Facebook. Underwater videos from this visit are now posted in this YouTube playlist for 2023!
I had a RenFaire event in Atlanta on Wednesday, so no overnight trip this time.
June 6, 2023
Tuesday roadtrip made! Wednesday visit cancelled
What a difference 12 degrees Fahrenheit makes! Bright sunshine all day and a high of around 85F made for water temps of 78F when I arrived and 82F when I left...a far cry from last visit's 70-72F. Great to see some old friends and make some new ones, including Landon, Peyton, Avery and Morgan. Videos from this visit are now posted in this YouTube playlist for 2023!
June 20, 2023
Tuesday-only roadtrip cancelled
Showers and thunderstorms are forecast for Tuesday...and much of the rest of the week. Here's hoping the rainfall isn't so excessive that it forces TVA to release extra flow.
June 27, 2023
Tuesday-only roadtrip scrapped
This was only one day after I returned from The Event Formerly Known As La Plata Rail Days, and I opted to give my car a break and get things done. I was pretty tired after that drive, too!
June 29, 2023
Thursday-only roadtrip scrapped
Had to cancel due to work and illness reasons.
July 3 and 4, 2023
Separate Monday and Tuesday roadtrips made!
On Monday the river was unusually high and cold and the Sun only came out for a few hours, but I met some awesome people. Tuesday was warmer, sunnier and quite crowded, but I got nicely toasted and saw more awesome people including Jesus, Saul, Kaden, Hugo, Cole, Jackson, Isaiah, Damian, Memphis, Landon, Sydney, Ryan and Ivy...and others whose names I didn't capture on video. Videos and photos from both days are now posted here on Facebook. Videos from this visit and a later one have been added to this YouTube playlist for 2023!
July 18 and 20, 2023
Tuesday and Thursday roadtrips made!
Great weather and warm, if slightly cloudier than normal water made these great trips. My friend "Hippie" Chris came along this time. I wish I had unlimbered my GoPro earlier in the day, as I missed some really awesome folks and I only got a couple of videos. Great to meet Darren and Tristan from an Oklahoma-based tribal band of Native Americans as well as your compadres, plus Ivan, Drew, Savannah and others. Y'all's photo and the two videos are now posted in this Facebook album (will cover the remainder of July). The videos have been added to the 2023 playlist on YouTube.
July 25, 2023
Tuesday-only roadtrip made!
Great visit with plentiful sunshine, warm water and cool people including Jackson, Kyle, Kinzer, TC, Jake, Kyle #2, Logan, Connor, Chloe and Bella. Photos and videos are being added to this FB album and all videos have been added to the 2023 playlist on YouTube. Good times for what might be my last visit for 2023.
August, 2023
Unscheduled trip made
Videos from this trip are now posted in my 2023 playlist on YouTube! Great to meet Anthony, Hannah, Dylan, Joey, Michael, Leanna and Sadie up there!
Photos and Videos
2023
2022
2021
2020
2019
2018
2017
2016
2015
2014
2013
2012
2011
2010

July 2010 pics taken with an "emergency" disposable U/W camera, when I thought my underwater digital camera had been lost for about a week.

2009
2008
2007
2006
2005
2004
2003
2002

Two huge pics of our whitewater raft hitting rapids in the lower Ocoee run

2001
2000

Gallery of pics from August 2000 (mostly from below the Ocoee #1 dam)
Pics from Summer 2000 featuring Brad G., Dirk S. and others are posted here. :)

1999
---
Paul, where do you get your.....
People sometimes ask me where they can find some of the things they've seen me with at Blue Hole, for a decent price, so here ya go:
My cool-looking straw hat. It's called a "Fulani" hat and is made by the Fulani tribe in Western Africa. I get mine from Spice Traders Music. Here is their Facebook profile. Awesome folks who make their own drums and didjeridoos but also import drums from Africa...as well as Fulani hats. I've "worked" for them at the Georgia Renaissance Festival for several years now.
Swim-jammers. For the low price I pay for these -- less than $20 -- I think more people would love to swim in these. They're fast in the water, quick-drying and provide support wthout being too revealing like a speedo, and they're cheaper than most board-shorts or suits.
Here's an eBay link for the iSpeed jammers I often wear (under $15 and free shipping!), and here's a link to FlipTurnSwimShop, a US-based eBay seller I've bought many jammers from, also for less than $20 each and fast, free shipping.
Masks, snorkels, fins. I've gotten most of my equipment lately from the eBay seller Get Wet Store, including all of my "Promate" brand masks, snorkels and fins. I haven't paid more than $30 for any of those, and generally pay $15 or $20 even for really good dive-masks.
Non-slip water boots. I use "Deep See" brand water boots, preferably with the felt bottoms, which don't slip easily...even on the slippery wet rocks at Blue Hole. You can set up a search on eBay for them.
1998 Roadtrip Diary | 1999 Roadtrip Diary | 2000 Roadtrip Diary | 2001 Roadtrip Diary | 2002 Roadtrip Diary |
2003 Roadtrip Diary | 2004 Roadtrip Diary | 2005 Roadtrip Diary | 2006 Roadtrip Diary | 2007 Roadtrip Diary |
2008 Roadtrip Diary | 2009 Roadtrip Diary | 2010 Roadtrip Diary | 2011 Roadtrip Diary | 2012 Roadtrip Diary |
2013 Roadtrip Diary | 2014 Roadtrip Diary | 2015 Roadtrip Diary | 2016 Roadtrip Diary | 2017 Roadtrip Diary | 2018 Roadtrip Diary |
2019 Roadtrip Diary | 2020 Roadtrip Diary | 2021 Roadtrip Diary | 2022 Roadtrip Diary | Current Summer Roadtrip Info |
Top of Paul's home page
Books I'm reading now
My current fave musical vibes
All of my CDs
Music links
Personal info
Ways to contact me or chat online